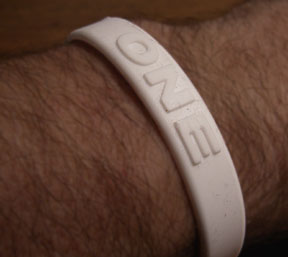 Wear our wrist band...
You can wear it next to your red Kaballah thread bracelet, your yellow LanceArmstrong bracelet, and don't forget your little flag pin and your pink Breast cancer ribbon.
I'm in a baad mood. The reasons is my lack of charity and an incident that I bitched about in my private blog...
Actually, if you REALLY want to help an Africa, send money to Sister Maggie, Light of life Sisters convent, 6 Cedrella Ave KweKwe Zimbabwe.
They'll put it to better use than feeling self righteous by wearing a bracelet that was probably made in China...
And say a prayer for me....I am a loud mouthed aggressive bitch, but have to live with a pious stepson who is a smiling passive aggressive fundamentalist....fill in blank.
It's enough to make me an athiest.